Say Hello to Perfection With Our Expert Assistance
Impress Your Professors With Flawless Papers & Secure Excellent Grades
The highly acclaimed team of proofreaders and editors
Our team of professionals holds the highest levels of qualification and professional expertise. They have completed their advanced degrees from top-tier universities around the globe and possess a strong command over the English language. Be it proofreading a 500 words essay or a 10000 words dissertation; they have extensive experience with all types of assignments in a wide array of disciplines.
The fairest pocket pinch in the market
The academic services at Absas.net are available at an excellent value. The price you pay depends on the type of assignment and the level of editing and proofreading you require. We offer plenty of deals and discounts throughout the year, which makes our services ever more budget-friendly for all. Please note that we have no hidden charges or additional costs.
Guaranteed lightning-fast turnaround
You can use our automatic proofreading tool for instant results. If not, you can hire our experts for editing and proofreading services and receive a perfect solution within the agreed deadline. Whether it's correcting grammar, spelling, and punctuation or improving the overall quality, share your requirement with our proofreaders, and we will provide you with a perfect solution within the deadline.
Assurance of 100% customer satisfaction
At Absas.net, we not only focus on making grammatical corrections but also make sure that there are no clearance issues. The experts revise every sentence for concision and reconstruct sentences and rephrase words without changing the original meaning to ensure your writing has the most significant impact on the grader.
Choose Us for Your Proofreading Project & Enjoy Endless Features
We provide exceptional benefits without any hidden conditions.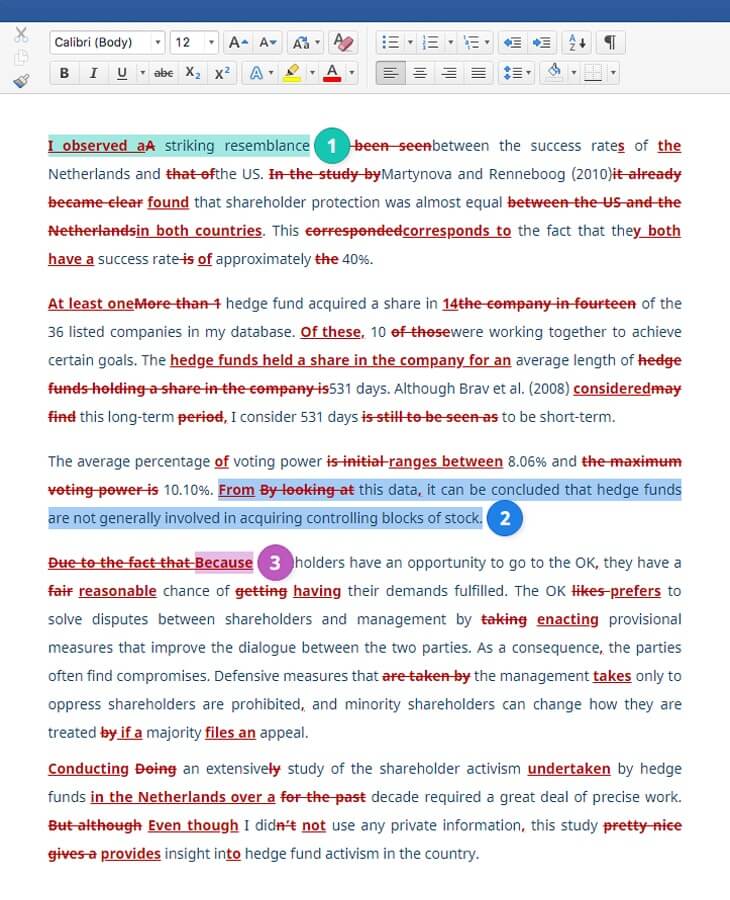 Our editors and proofreaders are well-versed with all formats and structures of all academic assignments. So, when you hire us to edit and proofread your project, our experts take the necessary measures to ensure complete accuracy of the content structure.
All our editors and proofreaders are native English speakers and give unparalleled attention to details – be it grammar, sentence structure, syntax, or spellings. They carefully study each paper to identify and fix errors and weak languages. Each document goes through a multistep proofreading process before delivery to ensure there no mistakes of any type in the paper.
When it comes to academic assignments, authenticity is the utmost priority for all students. Our experts are aware of the repercussions of plagiarised work; hence along with rectifying errors, they run several plagiarism checks so that there's no trace of plagiarism in the document. Along with the final copy, we also provide you with a quality and plagiarism report on request.
It can get challenging for students to remember the nitty-gritty of a specific citation style. While proofreading your document, our experts also check the accuracy of the references used in the paper and make corrections if necessary.
Many institutions follow strict guidelines around word count. Since there's a high chance of you losing out on your precious grades, our proofreaders make sure your paper doesn't exceed the mentioned word limit. They thoroughly proofread from beginning to end and remove fluffs to improve the quality and to keep the word count in check.
Apart from being highly skilled proofreaders, our experts are academically accomplished as well. They hold profound subject knowledge and can quickly make necessary changes in your paper if it needs fixing while editing. They remove language inconsistency and redundant words to make your writing more credible and professionally accurate.
Bid Adieu To Proofreading Woes With Our Proofreading Tool
All our editors and proofreaders are just a mail away to help you with personalised editing and proofreading aid as per your requirements. However, if you wish to get instant support without paying a penny, our proofreading tool is what you need. It's fast, efficient, and free. All you have to do is to follow three easy steps:
Step 1: Upload your file
To get started, upload the file directly or copy-paste the text you want to proofread in the "enter text" field. The tool supports all document formats such as .doc, .docx, .pdf, .pptx, .txt, .xls, .xlsx, and the like.
Step 2: Proofread your file
After uploading the file, click on the "proofread your solution" button and wait for the results. In seconds the tool will analyse your text and highlight the grammatical, spelling, punctuation, sentence formation, and other writing errors.
Step 3: Make changes as needed
As the tool highlights the errors, you can rectify the mistakes on your own or consult our proofreader for assistance. Even if you don't, you can make the changes with the recommendations suggested by the tool.
Frequently Asked Questions
Why does a student need a proofreader?
The reason why the majority of the students, budding writers and researchers hire professional proofreaders is that they lack the patience, skills, and time to proofread a document. Unlike most students, professional proofreaders have the skills needed to identify and fix errors with perfection and deliver error-free documents within the deadline.
What are the advantages of proofreading a document?
Proofreading is mandatory for all types of assignments, mainly because:
It makes scope for the writer to make changes.
It helps the writer to identify all types of errors.
It allows the writer to recheck if the document complies with the instructed guidelines.
It saves the writer from making silly mistakes.
It increases the chances of scoring high grades.
What is the difference between proofreading and editing?
Most students wonder what should they do first – edit or proofread. Ideally, a writer must edit before proceeding with proofreading. The first draft is never perfect; a writer must read and edit several times before proofreading the final draft to make it perfect.
What does the proofreading symbol mean?
Professional proofreaders use a set of coded instructions to identify errors and how to fix them. The symbols are notations which the proofreader makes in the margins corresponding to the line of text. They also use a slash to separate the multiple marks on the same line.
Does this proofreading tool identify all errors in the document, and is it 100% accurate?
This proofreading tool identifies all errors and inconsistencies in the document – be it grammatical, spelling, or other errors. The device uses an advanced algorithm to analyse and pinpoint even the tiniest of mistakes which your naked eyes are likely to miss. Even though the results are computer-generated, it is, however, advised to read the content after proofreading using the tool carefully.
A Genuine Focus On Delivering Top-Notch Quality
Let's Check What Our Clients Have to Say
"I find proofreading my law assignments pretty boring and tedious. Due to my lack of precision, I used to end up with a 'C' or a 'C-'. Thankfully, I found Absas.net. The proofreaders here do a fantastic job with my assignments. With their regular assistance, I now get straight A's in my semester papers. Keep up the good work guys."
Kalie Joans,
Sydney, Australia
"I needed assistance with proofreading my references at the 11th hour. No professionals could guarantee me on-time delivery other than the proofreaders at Absas.net. Along with proofreading my citations and references, they edited and proofread the entire document and delivered the assignment with a day to spare! I'm indebted to you guys."
Janet Bing,
London, the UK
"I was stunned by the quality of editing the proofreader did on my paper. His close attention to detail is something I should make a mention of. I missed out on a couple of references. He also rectified those and gave me constructive suggestions on how to improve my writing skills. I'm pleased with the service."
Robin Bloom,
New Jersey, The States
"I dread editing and proofreading. I find it pretty depressing, especially due to the errors I make and the tenacity of the task. I desperately needed help, and that's when I stumbled on to Absas.net. Not only the proofreader save me from flunking but also helped me secure an 'A'. Thank you, team!"
Greg Wilson,
Toronto, Canada
"I am a regular at Absas.net. As I juggle between studies and a job, I don't always get the time to devote much time to proofread my documents. The proofreaders here always help me round the clock without burning a hole in my pocket. Till date, they have helped me with all types of assignments, and I'm a happy customer."
John Lee,
Singapore
"When it comes to dissertations, my university is strict with writing and proofreading instructions. I hired a proofreader from Absas.net to help me with formatting and referencing my dissertation. They did a remarkable job as everything was accurate. Good work, guys!"
Harry James,
New York, the US
amazing job guys really good work here my group members really liked the work that the expert provided
User Id: 134867 - 28 Nov 2020
Sharjah, United Arab Emirates
Good content again by good team once again really happy with the quality of the content.
User Id: 181270 - 27 Nov 2020
Reservoir, Australia
The content was done in a timely manner . I meet the deadline that was required for this class.
User Id: 105189 - 28 Nov 2020
Houston, United States
Thanks for your cooperation and appreciate fro Stephen from supporting center who did his best for my content and deadline.
User Id: 250082 - 28 Nov 2020
United States
Good work was done this time. Hopefully to continue with the same quality of works.
User Id: 132600 - 28 Nov 2020
Jeddah, Saudi Arabia